Program do wystawiania faktur proforma online
W panelu czekają na Ciebie Twoje 793 wcześniej wystawione faktury, możesz nimi zarządzać i wystawiać dalej faktury za darmo.
Zapraszamy do rejestracji konta
bez ukrytych opłat i zobowiązań
🔸 FAKTURA PROFORMA DEFINICJA
Proforma nie jest dokumentem księgowym, jest jedynie tymczasową zapowiedzią dokumentu właściwego, którym najczęściej jest Faktura VAT, Rachunek lub Marża. Pro-forma nie powoduje więc skutków księgowo-podatkowych. Często stosuje się ją jako formę oferty lub zamówienia dla kontrahenta. Zapłacona faktura Proforma wzór to podstawa, z której wystawia się fakturę VAT. Na proformach podaje się dokładnie te same informacje co na fakturze, jednocześnie wyraźnie tytułując dokument "Faktura Proforma".
Ciekawostka: łacińskie słowo Pro forma oznacza robienie czegoś "dla pozorów".
🔸 CZY FAKTURA PROFORMA ZOBOWIĄZUJE DO ZAPŁATY?
Ponieważ faktura pro forma nie jest dowodem księgowym, nie stanowi obowiązku zapłaty, można ją potraktować w świetle prawa jako ofertę handlową, która nie jest wiążąca. W związku z tym oferta ta może zostać przyjęta i opłacona lub nieopłacona. Faktura pro-forma nie zobowiązuje Wystawcy do zapłaty podatku VAT i nie jest ewidencjonowana. Również Nabywca nie ma prawa do odliczenia podatku VAT z faktury proformy, ponieważ nie jest ona dokumentem księgowym.
🔸 KIEDY WYSTAWIĆ FAKTURĘ VAT DO FAKTURY PROFORMA?
Zapłacona proforma to sygnał dla Sprzedawcy, że Kontrahent zaakceptował jej warunki i zawarł Umowę zakupu, należy więc dostarczyć towar i wystawić właściwą fakturę końcową.
Fakturę VAT wystawia się po otrzymaniu zapłaty zgodnie z zasadami wystawiania faktur księgowych. Oznacza to, że nie powinno to nastąpić później niż do 15 dnia miesiąca następującego po wydaniu towarów lub wykonaniu usługi.
🔸 ZAPISYWANIE PDF I DRUKOWANIE FAKTURY PROFORMA ONLINE
Po wypełneniu wszystkie wymaganych pól formularza Faktura Pro-forma można ją zapisać do pliku PDF. W tym celu należy kliknąć przycisk Pobierz Fakturę. Natomiast opcja Drukuj, służy do wydruku proformy online bezpośrednio z przeglądarki. Konieczny jest darmowy program - dodatek Adobe PDF Reader do odczytu i druku faktury w pdf.
🔸 WZÓR FAKTURY PROFORMA
Poniżej zamieszczamy przykładowy wzór faktury proforma. Jest to szablon Podstawowy do wypełnienia i wydruku powyżej.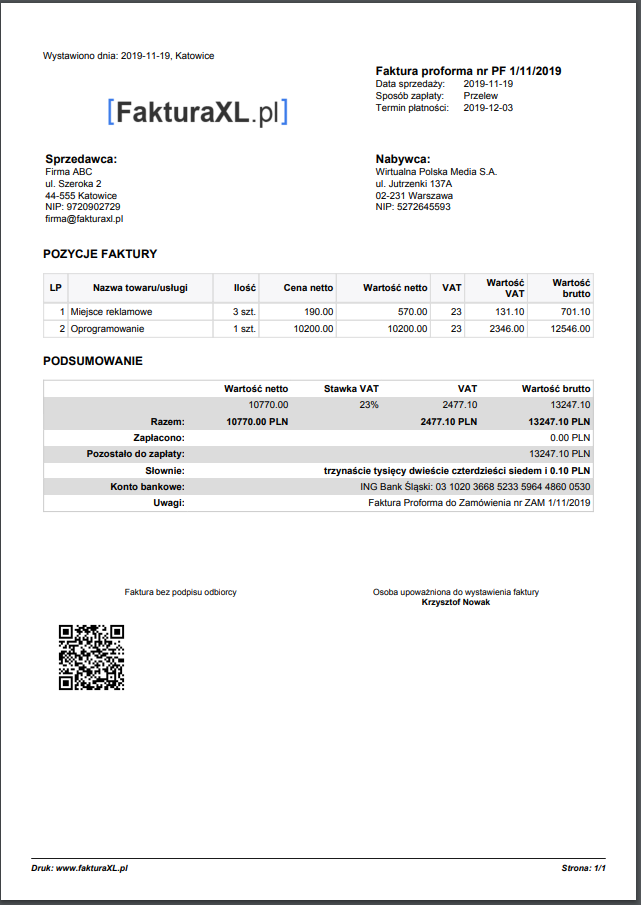 rys. Faktura Proforma, wzór podstawowy z programu FakturaXL